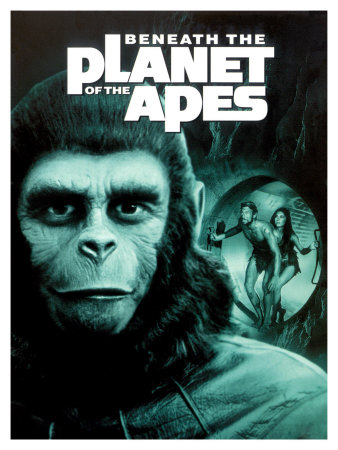 So, I've began watching all the movies of this series, and so far I really like them. I had never seen the sequels before, only the first original and the 2001 crappy remake, which I will not review. Also this year, a new movie will come out called 'Rise of the Planet of the Apes' and it is supposedly a prequel to the first one. I hope they stay true to that.
-----------------------------------------------------------
This is the sequel to
The Planet of the Apes (1968)
.
It starts off right where the last one ended. After Taylor(Charlton Heston) realizes where he has been the whole time, he must continue to go to the forbidden zone and find out everything.
Taylor somehow manages to get separated from Nova(Linda Harrison), a mute woman he befriended in the first film, after an Earthquake in the forbidden zone, so Nova goes back for help.
Meanwhile, nearby, there is a spaceship that has recently crashed and out comes in the new lead character, Brent(James Franciscus), who was sent to rescue Taylor and the other astronauts.
He eventually meets up with Nova and somehow they understand each other and go back to find Taylor.
But Brent stumbles upon a society of intelligent mutant humans whose God is an Atomic bomb.
You see where i'm going with this? Probably not but it's entertaining!
This movie wasn't as great as the first one, but it lives up to it. I liked it. It is better than most of the movies they have out nowadays.
I'll eventually review the next three(3) sequels soon.........
Yes three(3)! ......
No, I'm not kidding!